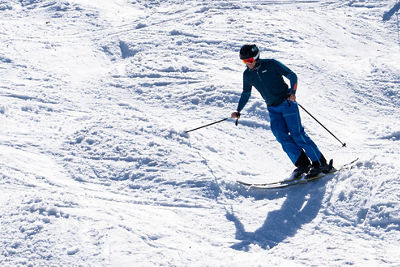 2022/23
JFBB IS GEARING UP FOR A SPECTACULAR ANNIVERSARY SEASON!
MAJOR happenings at Jack Frost Big Boulder are underway, just in time for a huge celebratory season!

This year, Jack Frost resort turns 50 and Big Boulder turns 75! Join us for a refreshing winter as we have added 5 new lifts and 4 new trails to make your experience legendary. Here are a couple new features to help you prep for your visit:


Renovated rental and retail spaces to get you on the snow even faster
We'll be jamming to tunes throughout the resorts, amping up with a full schedule of hot LIVE bands
Big Boulder is opening the Incline Lodge, a swanky chill spot to relax après
Tubing is making its epic return
Don't forget to grab your EPIC PASS for mondo discounts.
MORE details coming soon.

See you on the slopes!!
Current Hours of Operation
Previous tab
Previous tab
2022/23
General Hours of Operation
Jack Frost - OPENING DAY 12/2
Monday - Friday: 9 AM - 4 PM
Saturday & Sunday: 8:30 AM - 4 PM
Christmas Eve (12/24): 8:30 AM - 4:00 PM
Christmas Day (12/25): Closed
Big Boulder - OPENING DAY 12/16
Monday - Friday: 3 PM - 8 PM
Saturday & Sunday: 8:30 AM - 8 PM
Christmas Eve: Closed
Christmas Day (12/25): 12:00 PM - 8:00 PM
Snow Tubing
Reopening for season 22/23! Operating hours TBD
Monday - Thursday: Closed
Friday: 4:00 PM - 8:00 PM
Saturday/Sunday: 10:00 AM - 8:00 PM
Christmas Eve: Closed
Christmas Day (12/25): 12:00 PM - 8:00 PM
2022/23
Dining
Jack Frost
MONDAY-THURSDAY: 11AM - 4:30PM
FRIDAY, SATURDAY, & SUNDAY: 11AM - 5PM
OPEN EVERY DAY: 8:30AM - 4PM
SATURDAY & SUNDAY: 11AM - 4PM
Big Boulder
MONDAY-FRIDAY: 3PM - 8PM
SATURDAY & SUNDAY: 11AM - 8PM
SATURDAY & SUNDAY: 11AM - 6PM
FRIDAY: 3PM - 8PM
SATURDAY & SUNDAY: 10AM - 8PM
2022/23
Sales & Services
Jack Frost
MONDAY - FRIDAY:
9AM - 4PM
SATURDAY & SUNDAY:
8:30 - 4PM
Big Boulder
MONDAY-FRIDAY: 3PM - 8PM
SATURDAY & SUNDAY: 8:30 - 8PM
2022/23
Retail & Rental
Jack Frost
MONDAY - FRIDAY: 8:30PM - 4:30PM
SATURDAY & SUNDAY: 8:00AM - 4:30PM
Big Boulder
MONDAY - FRIDAY: 2:30PM - 8:30PM
SATURDAY & SUNDAY: 8:30AM - 8:30PM